Local Attractions
The Oscar H. Hanson House Bed and Breakfast is nestled in a quiet historic neighborhood and located two blocks from downtown Cambridge, Wisconsin. The downtown includes restaurants, specialty stores, a historic school museum, antiquing, and a historic walking tour with 26 sites of local significance.
Local Area Schedules of Events:
Indoor Activities
Outdoor Activities
Glacial Drumlin State Bicycle Trail (5 minutes away)
The Cam-Rock Park (5 minutes away)
Lake Ripley Public Beach (5 minutes away)
Jefferson Speedway (10 minutes away)
Hwy 18 Drive-In Theater (10 minutes away)
Fort Atkinson River Walk (15 minutes away)
Camp Randall Stadium (37 minutes away)
Kettle Moraine State Forest
BikingCross-Country Skiing
Boating
Swimming
Walking
Hiking
Bird Watching
Additional Links
Area Restaurants
Where to eat and drink while staying at the Oscar H. Hanson House
The list below are establishments are offer our guests something extra.
Cambridge Coffee House
2 min/ 0.3 mi
214 W Main Street, Cambridge, WI 53523
608-423-2345. Open Mon-Fri 6AM-2PM. Sat 7AM-5PM. Sun 8AM-4PM.
Custom roasted coffee and bakery prepared on-site in this quaint local coffee house. Ask us for their special offer for our guests
2 min/ 0.3 mi
206 W. Main Street, Cambridge, WI 53523
608-423-3730. Open Daily 11AM-9PM.
Pubby atmosphere, Keystone Grill offers Philly cheese steak sandwich, Turkey Grinder Sandwich, a black n' blue steak burgers and Friday Night Fish Fry. The name "Keystone" is a hint as to where the owner is from. Ken's Keystone Pub & Grill delivers too. Gluten-free options. Ask us for their special offer for our guests
4 min/ 1.2 mi
700 Kenseth Way Cambridge, WI 53523
608.819.6672 Hours (Subject to Change): Wednesday-Friday: 4-8/9p, Saturday: 12-8p, Sunday: 12-5p
Located in beautiful Cambridge, WI, Cambridge Winery was established in 2013 to produce high quality boutique wines and to provide hospitality facilities and services that complement its winery and vineyards. The Cambridge Winery will offer guests of the Inn half price wine tastings, as well as 10% off the total food bill. See an Innkeeper for details
14 min/ 9 mi
217 N Main Street, Lake Mills, WI 53551
920-648-5481. Open Wed-Sat Noon-8PM and Sun 11AM-3PM.
A local urban winery that produces small batches of handcrafted award winning wines. Located in the heart of Lake Mills, Lewis Station serves Wednesday Tapas between 5-7 pm for $20 / person includes one glass of wine and small bites off their menu. See the Innkeeper for a certificate for a free sample plate of Wisconsin cheeses, fresh fruits, nuts and a basket of bistro bread.
15 min/ 10.9 mi
14 East Sherman Avenue, Fort Atkinson, WI, 53538
(920) 397-7776 Monday through Thursday from 11:00-2:00 and 4:30-9:00PM
Friday *and Saturday: 11:00-9:00 (on Friday evenings a special fish fry menu!)
Paddy's is one of Wisconsin's most unique and authentic Irish pubs. Our goal is simple, to provide you with an experience that gets a smile on your face and a "wow" out of your mouth as you taste our great food and refreshing beverages. Ask us for their special offer for our guests
17 min/ 11 mi
226 S. Main, Fort Atkinson, WI 53538
920-397-7790. Open Tue-Sat 5-9 PM.
Hand-crafted Italian cuisine prepared by Chef Eric. This is a small neighborhood restaurant with amazing charm and ambiance. The perfect place for a special dinner. Gluten-Free options. Ask us for their special offer for our guests Reservations highly recommended.
21 min/ 17 mi
710 Glover Lane, Johnson Creek, WI 53094
920-699-9999. Open Mon-Thu 11AM-9PM. Fri-Sat 11AM-10PM. Sun 10:30AM-8PM.
Highway Harry's Supper Club is a "clubby" atmosphere with pianos, water features and fireplaces. Their menu has many steak and seafood items and they are meticulous when it comes to preparing meals for special diets. Ask us for their special offer for our guests.
27 min/ 23 mi
202 Pankratz Street, Madison, WI 53704
608-6633-3926. Open Mon-Thu 11AM-9PM. Fri-Sat 11AM-2AM. Sun 10:30AM-8PM.
Large microbrewery with a taproom offering house beers & light noshes plus tours and outdoor seating. Madison's popular microbrew, the Ale Asylum offers guests two free beers with the purchase of dinner for two. Ask the innkeepers for a coupon. OR Ask the Innkeepers how to take advantage of a 6-pack of Ale Asylum beer, two beer glasses and a $50 gift certificate for $60.
Other Locations in:
Cambridge
Lake Mills
Fort Atkinson
Madison
Experience a Biking Vacation
Enjoy a day of biking in the picturesque Wisconsin countryside. The fun becomes something truly memorable.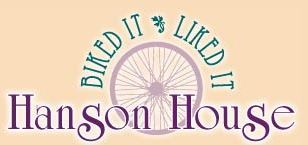 TAKE TIME FOR YOU
Make your reservations for one or several nights and create your own adventure. We offer additional information on route. Bike passes are required for all State trails and are available at various locations along the paths or through the Wisconsin Department of Natural Resources.
ABOUT CAMBRIDGE
Located at trail head of Camrock trail.
Swimming at Lake Ripley Beach.
Unique pottery at Rowe Pottery Gallery.
Hiking and biking on the Cam-Rock Trails or the Glacial-Drumlin Trail
Things to learn as you browse through the town's 1906 School Museum
The town's local history as you stroll the Cambridge Historic Walking Tour.
Restaurants, cafe, coffee shop, ice cream parlor. Dine-In or Carry-Out.
…. and at the edge of town, just 2.7 miles from the Inn on Hwy 18, is the Matt Kenseth Museum and Fan Headquarters.
…or hop back on your bike and visit many of the art , pottery, and woodworking studios in the area. Too much to see in one-day? Perhaps you'll need to stay longer.
USING THE HANSON HOUSE AS YOUR BASE
Use the Oscar H. Hanson House as your starting point, end point, or any where in-between.
Many of our guests take multiple day trips using the Hanson House as the base. This PDF map shows you how to bike to the Hanson House from the Glacial Drumlin Trail. Located less than 4 miles from the Glacial Drumlin trail, your adventure starts here. From the trail head in London, go east toward Lake Mills. There are many wonderful the sites along the way, and wonderful shops and things to do there. You can also go west toward Cottage grove, where within a few miles, you can link up to Madison's Capital city trail. Or you can always just stay local, and go trail ride the Cam-rock…. There are plenty of wonderful miles. Bike it, like it!