Chef's Table
Culinary Experience only for our guests
We've teamed up with executive chef Noah Przybylski of the Cambridge Winery to offer the ultimate culinary experience, and only available for guests of the Inn. It's available as an add on to your stay, when you pick Chef's Table, ($69.99 for two, gratuity excluded)..
You tell us any foods you'd care not to eat, any allergies and the rest will be a surprise. You'll get at least a three course dinner prepared specially for you by Chef Noah, and each course pared with wine from the winery.
Experience Dining
Dining Culture
For a small town, Cambridge has a vibrant dining culture from talented chefs to supper clubs to diners.
Within a 10-minute drive from the inn are 3 amazing chefs:
• Cambridge Winery features Executive Chef Noah Przybyski offering tapas that perfectly pair with the Cambridge Winery wines and exclusively to our guests, Chefs Table. Chef Przybyski dishes are infused with homegrown herbs and uncommon flavors.
• Lewis Station Winery located in Lake Mills is home to Executive Chefs Jason and Beth Dunn. These chefs offer a bistro menu that is full of flavor of local organic farmers and sausage makers. Artisan pizzas have a fresh home-made crust that is flaky. Single orders are meant to be shared.
• The tiny galley kitchen of Mangiami Italiano in Fort Atkinson is the home of Executive Chef Eric Weber. Chef Eric starts his day early making fresh pasta for his ristorante. In the summer, Chef uses the vegetables from his garden to make vegetable zuppa packed with flavor.
The Fireside Dinner Theater is a family-owned and operated dinner theater experience. Off-Broadway actors hone their talent here while waiting for that next big break. For patrons craving a Wisconsin fish-fry and potato pancakes, no need to see the show, just make a reservation for dinner.
Supper Clubs are a Wisconsin institution that have been around for at least half a century. They are a place where people could linger all night. The hallmarks of a supper club are dark soothing interior with a view of a lake, river or forest; a restaurant that serves traditional American food and offers food, drink and entertainment; dinner is preceded by a relish tray of fresh cut veggies, pickled cherry peppers, pickled herring, crackers and bright orange cheese spread; a salad bar is available with triumvirate of homemade salad dressings brought to your table; and patrons enjoy a traditional old fashioned before dinner and an ice cream drink afterward. Remember to take home the left overs of your large meal in a doggie bag, another mainstay of the Wisconsin Supper Club. We have several supper clubs nearby:
• Buckhorn Supper Club, Milton
• Edgewater Supper Club, Jefferson
• Stage Coach, Fort Atkinson
• Highway Harry's, Johnson Creek
(wanna play along? Click here to get a Supper Club Score Card)
Ken's Keystone Grill & Pub and the Sports Page are two local sports bars within walking distance from the inn with friendly bartenders who will get to know you before you leave. The Keystone owner, Ken Kemler, is a native of Philadelphia and you guessed it, has a phenomenal Philly Cheesesteak and Cajun French fries. The fries are seasoned with Ken's own special blend of herbs and spices. Ken's pride and joy is the Keystone smokehouse. Ribs are on the menu every night.
Babymoon Getaway
Come and enjoy a relaxing, romantic Babymoon at the Oscar H. Hanson House and take time to unwind before your baby arrives.
Our Babymoon Getaway is perfect for a one-night stay.
On arrival fruit and cookies will be delivered to your room accompanied by chilled sparkling cider.
Keepsake ornament
When you are ready, we'll order you a medium pizza and deliver it to your room.
Need extra pillows? Just ask. We understand that sometimes babies need their own pillows.
Extra ice cold water available in your room refrigerator.
And so that the two of you can continue your time together, breakfast will be delivered to your room at 9 AM.
10% off a Baby Blessing in the Madison, WI area by Mary the Rev
The package price $80.
Baby Bliss Babymoon.
Might you have two days for each other?
You will adore our Baby Bliss Babymoon.
On arrival, fruit and cookies will be delivered to your room accompanied by chilled sparkling cider.
Dinner for two at Mangiammi's Itallian Restaurant in Fort Atkinson. Only 13 miles from the inn, you will fall in love with the quaint architecture and the creativity of Chef Eric at Mangiammi's.
Keepsake Ornament
A professional couples' babymoon portrait by Julie Anderson
Photography in Cambridge: 15 minutes of the photographer's time, 4 digital portraits and copyright release.
Need extra pillows? Just ask. We understand that sometimes babies need their own pillows.
Extra ice cold water available in your room refrigerator.
And so that the two of you can continue your time together, breakfast will be delivered to your room at 9 AM each morning.
10% off a Baby blessing in the Madison, WI area by Mary the Rev
(Two night minimum stay is required)

The package price $239
Biking Vacation
Bike it, Like it!
Enjoy a day of biking in the picturesque Wisconsin countryside. The fun becomes something truly memorable.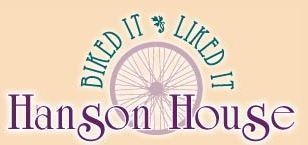 TAKE TIME FOR YOU
Make your reservations for one or several nights and create your own adventure. We offer additional information on route. Bike passes are required for all State trails and are available at various locations along the paths or through the Wisconsin Department of Natural Resources.
ABOUT CAMBRIDGE
Located at trail head of Camrock trail.
Swimming at Lake Ripley Beach.
Unique pottery at Rowe Pottery Gallery.
Hiking and biking on the Cam-Rock Trails or the Glacial-Drumlin Trail
Things to learn as you browse through the town's 1906 School Museum
The town's local history as you stroll the Cambridge Historic Walking Tour.
Restaurants, cafe, coffee shop, ice cream parlor. Dine-In or Carry-Out.
…. and at the edge of town, just 2.7 miles from the Inn on Hwy 18, is the Matt Kenseth Museum and Fan Headquarters.
…or hop back on your bike and visit many of the art , pottery, and woodworking studios in the area. Too much to see in one-day? Perhaps you'll need to stay longer.
USING THE HANSON HOUSE AS YOUR BASE
Use the Oscar H. Hanson House as your starting point, end point, or any where in-between.
Many of our guests take multiple day trips using the Hanson House as the base. This PDF map shows you how to bike to the Hanson House from the Glacial Drumlin Trail. Located less than 4 miles from the Glacial Drumlin trail, your adventure starts here. From the trail head in London, go east toward Lake Mills. There are many wonderful the sites along the way, and wonderful shops and things to do there. You can also go west toward Cottage grove, where within a few miles, you can link up to Madison's Capital city trail. Or you can always just stay local, and go trail ride the Cam-rock…. There are plenty of wonderful miles. Bike it, like it!
Select Wines
The Oscar H. Hanson House is offering the ultimate experience. When reserving your room- look for a choice of wine to add on.
We have have personally selected these wines for your enjoyment.
The two choices from the Wollersheim Winery are favorites when we sneak away for an afternoon and visit the winery. We are offering their semi-sweet Blushing Rose and their top selling semi-dry Prairie Fume.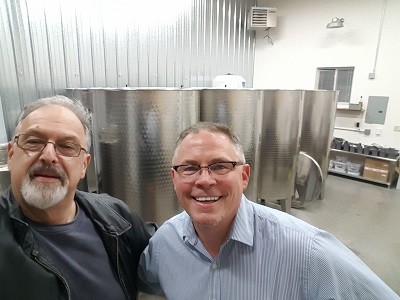 The selection from Lewis Station Winery, which is only 9 miles away, is a fun wine, their Grist Mill Red, a semi-sweet blackberry Merlot. We have it every time we visit the winery. Rob Lewis is the the owner and Wine Maker, and a good friend.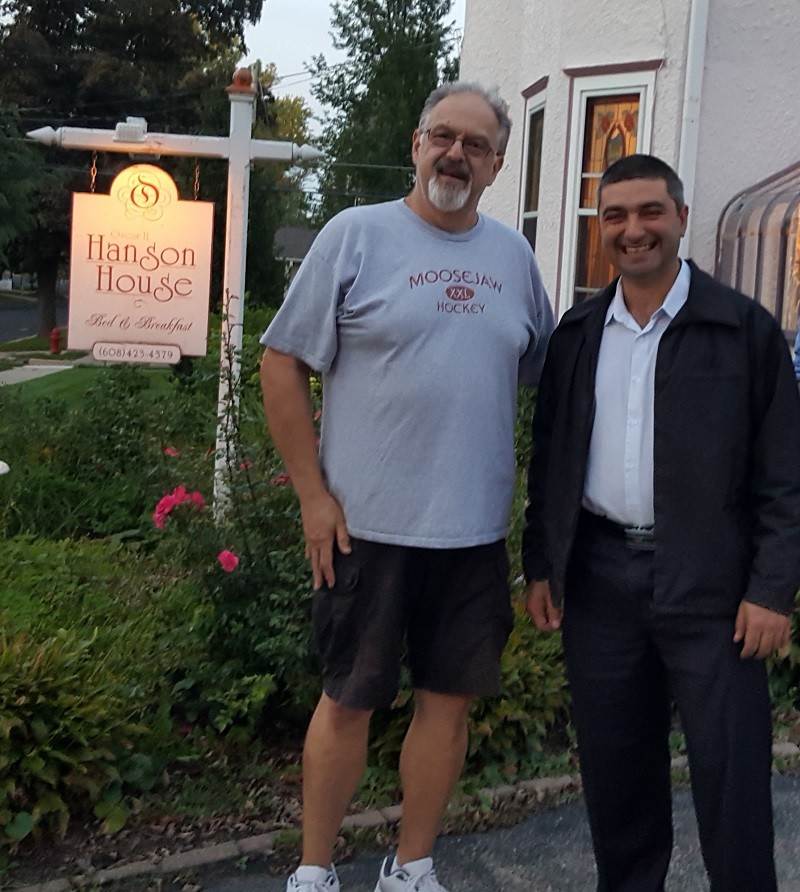 The Moscato we're offering has a great story. We met the winemaker when he stayed at our Inn. He was Greek, but was making wine is Australia. Great story on how he got there. We found out that a local shop had his wine, and after we tried it, is was now one of our favorites.
Let's Elope!
Let's Elope (LE) -$129*
Once you have your license, this is the quickest way to tie the knot without going to Las Vegas or the courthouse. Marry in a beautiful Victorian home, either inside or outside on the porch. And we provide the witnesses. Same sex friendly. This is a true elopement. (To get your special price, be sure to select the add on, "Let's Elope! Save $40!")
No overnight lodging available Sun night -Thur night
This package includes:
-Officiant, simple ceremony and filing of the license
-Limited to only the bride and the groom.
-Includes witnesses
-Your elopement is non-refundable
-30 minutes at the inn. Time and date based on availability,
Mon-Thur 4-6pm;Sat - Sun 1-3pm.(Friday not available)

Add-ons: Casual Photography
Read our FAQs.
*Offers, prices and packages subject to change without notice