Packages
Short & Sweet
Starting at $169. Choose this package if you have a small group of family and friends that you would like surrounding you as you marry with love and support. 2 guests are included with additional guests possible to a total wedding party of 10. Click here for details.
Short & Sweet
SHORT & SWEET ELOPEMENT (SS) -$169*
Once you have your license, this is the quickest way to tie the knot without going to Las Vegas or the courthouse. Gay and Lesbian friendly. Marry in a beautiful Victorian home, either inside, outside on the porch or amongst the gardens.This is a true elopement.
No overnight lodging available Sun night -Thur night
This package includes:
-Officiant, simple ceremony and filing of the license
-Limited to 4 people: the bride, the groom and 2 witnesses. (Extra people $35/each- maximum is 6 more)
-Your elopement is non-refundable
-60 minutes at the inn. Time and date based on availability, Fri - Sun, 1-6pm. Mon-Thr 6 or 7pm. (Weekends, Fri--Sun night, 4-7pm incur a $25 surcharge per hour.)
Add-ons: see add-ons tab
Read our FAQs.
*Offers, prices and packages subject to change without notice
Add-ons
*Offers, prices and packages subject to change without notice
-Witnesses ($25 gratuity each) The State of WI requires 2 witnesses. Gratuity is for the witnesses' time and signature.
-Additional guests ($35/each). (max of 10 total including bride and groom)
-Weekends, Fri-Sun night, 4-7 pm incur a $25 surcharge per hour.
-CASUAL CANDID PHOTOGRAPHY by Duke Mihajlovic ($49)
(not available before 5pm weekdays). Casual and candid pictures of your ceremony and your time at the Hanson House. Package includes the jpg images taken to record your special day. No additional form is needed.
-PROFESSIONAL PHOTOGRAPHY by Julie Anderson Photography ($125.00)
30 minute of Professional Photography starting at the time of the ceremony. Couples may choose 8 high-resolution digital files. All delivered via email. You will need to complete another form if you order this package. (limited availability: Friday 3pm only, and Sat-Tues)
-Celebratory Toast - $5.00 per serving of sparkling wine
-Flowers - Beautiful fresh flower Bridal bouquet and boutonniere perfect for your elopement or pop-up wedding. Flowers designs from Humphrey Floral & Gift. $90
-CEREMONY DECORATIONS AND DESIGNS - OUTSIDE PORCH WEDDINGS ONLY by 1231 Decor
Whether reciting your wedding vows or renewing them after years of love and happiness, picture your special day with elegant decorations. A must have if you're also selecting photography. Note: Available May-Sept for outside porch weddings only!
Ceremony Decorations and Designs by 1231 Decor Add-on ($60-$105)
SIMPLY ELEGANT DESIGN ($60)-Whether reciting your wedding vows or renewing them after years of love and happiness, picture your special day beneath this elegant display of cascading silk flowers and soft flowing sheers. Choose from a variety of colors including white/silver; silver/gold; luxurious cream; shades of purple; deep romantic reds, navy or ocean blue.
ROMAN ROYALTY DESIGN ($85)-Travel to a distant land and time with the Romanesque motif. Deep purples and wines were the colors enjoyed only by royalty in Ancient Rome. A bust of Venus De Milo, tall pillar candles with cream and deep wine silk sheers swaying in the breeze will make you feel like royalty on your special day.
COTTAGE BREEZE DESIGN ($95)-Enjoy the warm summer breeze with this fresh ocean blue and white theme. A garden bench (not shown on web) will be the perfect spot for photos.
ROMANCE IN RED DESIGN ($95)-Select this deep red with snowy white or buttercream for a special romantic wedding ceremony. Surround yourself with passion to compliment the love you feel for each other.
BLUEBERRY CREAM DESIGN ($105)-Midnight blue with cream will enhance our special day with sophisticated luxury. Exquisite silk flowers arranged in tall glass vases with ribbons and sparkling lights accent this plush design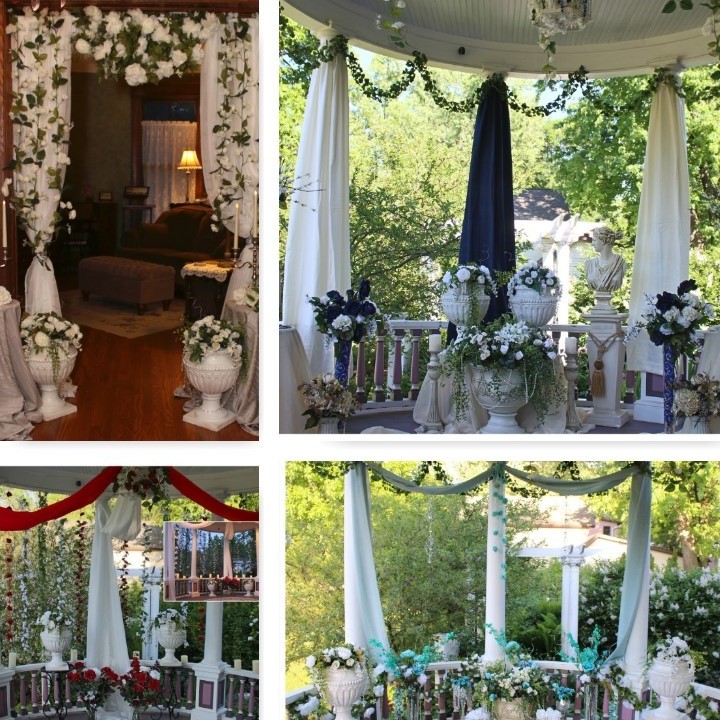 FAQ
After reading the FAQ, still have questions? Click here.

General
What is the down payment for the elopement package?
100% of the elopement package is due at booking and is non refundable.
What do we need to bring?
Other than each other and your witnesses, you need to bring your marriage license. The marriage license is so important that the ceremony cannot begin without it.
Do you provide dressing space?
Unless you reserve a room and purchase early check-in, there is no dressing space available. Our earliest check-in for room reservations is at 2 PM.
Can I come early to dress?
If you have reserved a room on your wedding day and bought early check-in, you can come at the time of your early check-in and dress in your room.
What if I have reserved a room and arrive earlier than 1 PM?
If you arrive earlier than 1 PM, you will need to wait in one of our local coffee shops. There are only two of us cleaning 4 guest rooms. 1 PM is the soonest we could get rooms ready for those that are getting married at 1 PM or for those who have a 1 PM check-in included in their package.
Do you provide food and beverages?
We do not.
Do you provide champagne?
Wine or sparkling wine is available for sale- this must be arranged before your wedding day.
How many glasses in a bottle of sparkling beverage?
Depending on the pour 5-6 servings.
Can we bring beer or wine?
No. Our liquor license does not allow carry-ins. You may purchase wine or sparkling juice from the innkeepers.
Do we need an officiant or minister?
All the Hanson House Wedding packages include an officiant/minister.

Can we bring our children? How many people can attend?
Yes, of course. The total number of people-bride, groom, photographer, and additional guests is capped at 10. This includes your children. There is a $35 charge for each additional guest above what is stated in the package to the 10-person max. If you are bringing small children, for their safety, please make sure that they are tightly supervised while they are at the Hanson House. We suggest bringing someone along for childcare. During the ceremony, you will want to be focused on each other. The inn is not child-proofed and we would like everyone to enjoy the ceremony and their time at the inn.
What if our children are under 1? Are charged for them as well?
Yes. Infants, babies, toddlers are all $35/each.
Where can we park?
You and your guests may park in the drive way in the back on the South side of the house. From there, there are two steps up into the house: One small step from the driveway to the solarium and the second ½ step into the house. All indoor weddings are on the first floor.
I smoke and I wonder what your smoking policy is?
In compliance with local and state regulations there is no smoking, use of e-cigarettes, incense, lighting of flames, or cooking in the inn or on the property. There is a receptacle provided on the public sidewalk. If you are caught smoking in the inn or on the property, unfortunately, you will be immediately asked to leave without a refund and you will also be charged for cleaning.

Elopements/Weddings
What if we need to cancel?
If this happens, we are truly sorry. However, all elopement and weddings packages including the extra guests and add-ons are non-refundable. If you need to cancel your room reservation, all lodging cancellations policies apply per the cancellation period and administrative fee.
What if we need to change the date?
Changes in dates are allowed once. However, if you are staying the night, room reservation policies apply including an administrative fee.
What happens if we start the ceremony 60 minutes after the agreed upon time?
Your event MAY still be accommodated based on the officiant's and inn's availability. If the officiant and the inn are available, there is an additional $50/hour charge for each hour the ceremony is delayed. If your event needs to be rescheduled, you will be charged a $50 for delaying the service. .
If we're eloping, how many guests can we have?
The number of guests including the bride and groom is 10
Does a photographer count as a guest?
Yes. At the inn, every person who comes into our home is a guest. In order to accommodate the comfort of our guests, we limit the number based on the package. Every person counts. If you ask, your photographer may agree to be a witness. If you bring a camera, witnesses are generally available to snap
pictures. Afterward, we can re-pose any parts of the ceremony you'd like for pictures. (If you are using the Hanson House Photographer- that person does NOT count as a guest)
Who can be a witness?
The State of Wisconsin requires two witnesses 18 years or older who are legally able to sign.
What is the elopement ceremony like?
The elopement ceremony is non-denominational and lasts 6-8 minutes. Vows are the traditional vows. There is no reference to a Higher Power or subservience of one gender over another.
Can we make changes to the ceremony?
The ceremony itself cannot be changed. You can, however, personalize it with your own vows.
What happens if we stay longer than the package allows?
The time on the packages is absolute. If you go over the time in the package you will be charged $50/hour. The inn does more than one wedding a day and staying longer may put another wedding behind.
Can we use candles for our ceremony?
NO, this is a request from the fire marshal and our insurance company
What should our photographer know about the ceremony?
Please ask your photographer to keep 4 or more feet from the bride, groom and minister during the ceremony.
My mom and aunt are helping me get ready for a Short & Sweet weekend evening wedding. What time can they arrive?
Weekend Short & Sweet weddings at the inn are from 1-7pm. One hour of inn time is included with the Short & Sweet package. At the request of our Fire Marshall, we restrict the number of people in the room to two. Unfortunately, this means only one helper in the room. You will need to reserve a room if
you would like some place to get ready. Guests can begin arriving at or during the hour you select on your agreement. The hour starts as soon as your first guest arrives.
Marriage License
How do we apply for our marriage license?
Check the website of the County Clerk in your county of residence. Each Clerk's Office varies in hours available and whether they accept cash, check or charge card. You will need to bring documents such as birth certificate, divorce decrees, and driver's license. Check with the County Clerk's Office for exactly
what documents you will need.
Official Copy of Marriage Certificate
How soon is our marriage license filed with the state?
The Hanson House files your license within 72 hours of your wedding with the Dane County Registrar of Deeds. Most are filed within 24 hours. Your license is sent by Priority Mail with tracking through the main Madison Post Office. The tracking number is included with your Hanson House mementos. Use this
number to track when your license arrives at the County.
I noticed you offer expedited filing. What is that?
The Hanson House includes in each package filing of your license by Priority Mail with tracking. This normally takes 1-3 days. As of the fall, all mail processed in WI is now sent to Milwaukee for postmarking and then mailed. This adds an additional 1-2 days to arrive at the County Registrar of Deeds
office. Expedited filing means your license is hand delivered to the Dane County Registrar of Deeds office the next business day. There is an additional charge for expedited filing.
How do I get my official copy of our marriage certificate?
In Wisconsin, the bride and groom's official copy of the marriage certificate comes from the State not the officiant. Once the license is received, the Registrar signs and embosses it with their seal. There is information in the packet with your license that you receive from the County Clerk with information on how to obtain your official copy: more info here
Is our marriage certificate automatically sent to us?
No. Couples need to request their copy of their marriage certificate from the State of Wisconsin. Click Here for the website: The State charges a fee for each
copy.
Our Wedding Vendors
Check out why the Oscar H. Hanson House is the place for Elopements in Madison.
Vow Renewal
Just the Two of Us Vow Renewal -$79
You know nurturing your relationship is important. Marking your anniversary with a vow renewal is one ways to say to your sweetheart, "I'd marry you again." Just the Two of Us Vow Renewal includes you and your sweetheart, the ceremony, an hour at the inn, and a keepsake ornament.
Pop-up Vow Renewal
Using the Just the Two of Us Vow Renewal add options such as extra guests, photography, flower stem, toast and cake.