March 5, 2014
What to Expect at the Oscar H. Hanson House Bed and Breakfast in Cambridge, WI
Posted by: Duke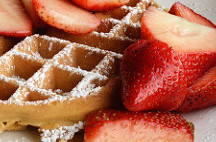 On occasion guests arriving at the Oscar H. Hanson House Bed and Breakfast, admit they don't know what to expect during their stay. We'd like to start out by saying that because of the building, neighborhood, resources and the innkeepers, each B&B is a different experience.
When you arrive at the Hanson House B&B, you are greeted by one of us. Check-in is between 4 and 7 pm or other times by appointment. We have a short check-in where we review your advance instructions to us, process your payment and tell you a bit about the house and the area. You receive a key to your room and the passcode for the main inn door so you can come and go as you please, there is no curfew. We also explain our breakfast menu and that in the morning breakfast is brought to your room.
Our style of innkeeping is to let our guests explore and create their own memory about staying with us. The Hanson House B&B is our home. We live there so we are always available for concierge assistance whenever you need us. In fact, we hand you our cell number at check-in.
Check out is simple. Just return your key and your set.
See you soon.