February 1, 2014
What's for breakfast at the Oscar H. Hanson House Bed and Breakfast?
Posted by: Duke
The Oscar H. Hanson House Bed and Breakfast (B&B) serves home cooked breakfasts that meet your special needs so you know that each breakfast is prepared specifically with you in mind. Great breakfasts begin with the best ingredients and slow cooking. We start with fresh fruit in the spring and summer and roasted or poached fruit in the fall and winter. There is always a scratch-made home baked item such as coffee cake or turnovers and then a hardy entree such as waffles or quiche.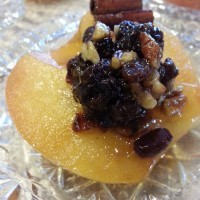 Monday through Friday morning guests are treated to a breakfast basket. The night before we stock your room refrigerator with milk, juice and yogurt. In the morning before 7 am, we quietly leave the breakfast basket at your door for whenever you are ready. In the basket is hand-packed granola chocked full of nuts and dried fruit; a banana and one other type of fruit; homemade bakery, and crustless quiche.
Unless you otherwise request, breakfast is always delivered to your room.
We are excited about cooking breakfast for you so make your reservation. It's easy to book online.