February 7, 2015
New at the Oscar H. Hanson House: Personal Happy Hour
Posted by: Duke
After working, raising kids, and onslaught of life events that leave you limp…what you're craving is time with each other.Your time together translates talking, laughing and planning which direction your life will take next. To make the most of this time together, we created the Hanson House Personal Happy Hour.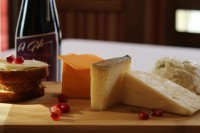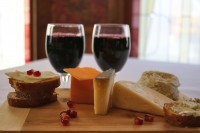 Enjoy your happy hour when and where you want it. Order at reservation and we'll have it ready for you when you arrive. Look in your bag and you'll find a 375 ml. bottle of Cemer's Private Reserve wine, several varietals of orphan cheese, and crostini or crackers. The cheese and crackers have a list value greater than or equal to $10.99. The wine is our gift to you. It's enough to make a meal.
A little bit about the wine. Cemer, pronounced chĕ' mer, was Duke's Dad. Cemer emigrated from Yugoslavia in the late 1940s and yes, he made his own wine. He always saved the best for guests. Cemer's Private Reserve is a Blackberry Merlot from Lewis Station Winery in Lake Mills, WI.