March 11, 2014
Mini Blueberry Turnovers-Yummo!
Posted by: Duke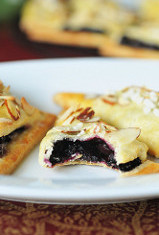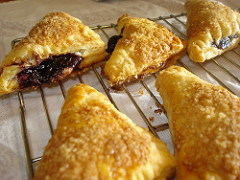 ts been 9 years since we opened the Oscar H. Hanson House Bed & Breakfast in rural Cambridge, WI. I love making pain au chocolate with puff pastry dough for breakfast, but had not ventured into the world of turnovers until now. Cambridge is located about 13 miles east of Madison. The area is full of orchards and berry farms.
Mini Blueberry Turnovers
1 sheet of puff pastry, Thawed
10 tbsp of blueberry pie filling
2 tbsp cream
1 tbsp water
2 tbsp white sanding sugar
1 tbsp raw sugar
Preheat oven to 425 degrees. Place a piece of parchment paper in a cookie sheet. Unfold puff pastry and cut into 9 squares. Brush a little water along all four sides of each square. Place 1 tsp of filling in the center of each square. Fold over pastry to opposite corners and press to seal.
Place on parchment paper. When all 9 are on the cookie sheet, they can be frozen for later. Otherwise, combine the sanding sugar and raw sugar in a 2-to-1 ratio. Brush the tops of the turnovers with cream and generously sprinkle to the tops with the sugars. Bake for 20-25 minutes until golden brown and the puff pastry is baked. Allow to cool and sprinkle with powdered sugar.