November 5, 2013
Hanson House B&B Gluten Free No-Bake Raspberry Pie in a Jar
Posted by: Duke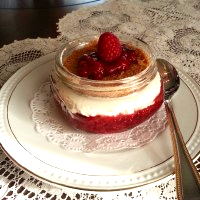 I liken eating dessert out of a jar to snitching a spoonful of ice cream out of the carton. Ice creamy bite after bite, you can easily muster your inner child and feel the mischief welling within. With this treat, there is a bit of sweet raspberry, crumbled cookie, and creamy topping in each bite.
3 small canning jars
1 pkg frozen raspberries
Sugar
Whipping Cream or non-dairy whipped topping
8 Gluten Free Ginger Snap Cookies, crushed
3 fresh raspberries or other garnish for the top.
Macerate raspberries with sugar and set aside. Whip cream with sugar to taste. Place some of the raspberries in the bottom of the jar. Layer with whipped cream. Sprinkle a layer of crumbled cookies on top. Place a tablespoon of macerated raspberries in the middle of the cookies. Place a fresh raspberry on the top.
Teach your children to make this one.