November 14, 2014
Gluten-free New York Crumb Cake Recipe
Posted by: Duke
I found this recipe in the magazine, Cuisine at Home. It had a thick streusel topping that I just love. After reading the recipe, I wanted some. Living gluten-free is so much easier today than ever before. Artesian flour blends make converting recipes to ones that are safe for people that are gluten-sensitive. This one was easy. Using William and Sonoma's or Pamela's Artesian flour blend, I have make this scrumptious gluten-free coffee cake for guests over and over.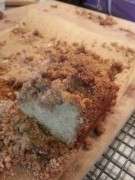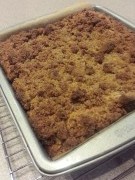 Crumb Topping
1/2 c. brown sugar, packed
1/4 c. granulated sugar
1 1/2 c. gluten-free flour blend
2 1/2 t. cinnamon
1/2 t. kosher salt
1 stick unsalted butter, melted and slightly cooled so as not to melt the sugar.
Cake-Dry Ingredients
1 1/4 c. gluten-free flour blend, (be sure your blend has Xanthan Gum in it)
1 t. baking powder
1/2 t. kosher salt
1/4 t. baking soda
Cake-Wet Ingredients
6 T. unsalted butter, softened
1 c. granulated sugar
2 eggs, room temperature
1 t. vanilla extract
1/2 c. sour cream
Preheat over to 325 degrees. Prepare an 8×8 pan: grease with butter, line with parchment paper, and butter the paper.
Crumb Topping
Mix together sugars, gluten-free flour blend, cinnamon, salt, and cooled butter and store the mixture in the refrigerator until ready to use.
Cake
Whisk together gluten-free flour blend, baking powder, salt, and baking soda. Set aside. With an electric mixer, mix butter and sugar together on medium speed for 3-5 minutes until light and fluffy. The fluffier the butter and sugar the more tender the crumb. Beat in the room temperature eggs one at a time until just blended. Add vanilla and sour creams until just incorporated.
With a rubber spatula, mix the gluten-free flour mixture into the wet ingredients until just blended and gluten-free flour-blend is incorporated. Mixing in the gluten-free flour too much creates a tough crumb.
Spread into the prepared pan with an offset spatula. Top with crumbs starting from the outside of the pan edges to the center. Completely cover the cake with pea size crumbs. Topping will be thick. Bake for 45-50 minutes until a toothpick inserted in the center comes out clean. Do not bake longer than 50 minutes. When cooled, sprinkle with powdered or granulated sugar. Serves 12.