December 15, 2014
Gluten Free Cranberry Kuchen
Posted by: Duke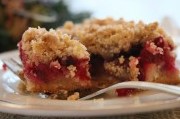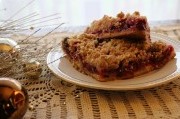 It was Thanksgiving and I bought plenty of fresh whole cranberries for our family to enjoy. After the family gathering, I had about 6 cups of the tiny red fruit left. What to do? Cranberry bars or as my husband calls them, Cranberry Kuchen. These are tiny sweet, tart little bars of goodness must absolutely be stored in the refrigerator.
Crust and Topping
2 1/2 c. Gluten-free flour blend with Xanthan Gum or Guar Gum*
1 c. sugar
1/2 c. almond flour or Gluten-free quick oats
1 tsp. baking powder
1/4 tsp Kosher sea salt
1 c. cold salt-free Gluten-free butter, cut into small pieces
1 egg
1/4 – 1 tsp ground cinnamon
Filling
4 c. fresh or frozen cranberries
1 c sugar
Juice of 1/2 orange or 1 tbsp. other juice
1 tbsp. cornstarch or arrowroot
1 tsp. vanilla
Heat oven to 375°F. Grease 13×9-inch pan with butter and parchment paper.
Mix the first five crust/topping ingredients (GF flour through sea salt) in a food processor. Add butter and pulse to incorporate. Add egg until just mixed.
Press 2 1/2 cups of crumb mixture in bottom of pan. Stir cinnamon into remaining crumb mixture; set aside.
In medium bowl, stir all filling ingredients. Spoon evenly over crust. Sprinkle reserved crumb mixture evenly over filling.
Bake 45 to 55 minutes or until top is light golden brown. Cool completely. Refrigerate until chilled. Cut into 6 rows by 4 rows. Store tightly covered in refrigerator.