December 3, 2014
Gluten Free Chocolate Éclair Torte
Posted by: Duke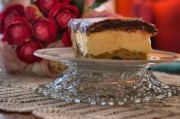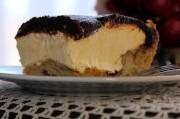 My first memory of this cake is when my boys were in grade school. They had taken their allowance and bought me roses at the corner gas station. My husband and I presented them with the torte. Me in an animated tone: Roses are red. My husband in a monotone robotic voice: Violets…are…blue. Me: Éclair torte is great. My husband still using his robotic voice: When…it's…eaten…with…you. Thank you Dan and Mike for a great memory.
PASTRY:
1 c. water
1/2 c. Unsalted butter
4 eggs, cold
1 c. Sweet Brown Rice Flour or Pamela's GF Artesian Flour
1/4 tsp. salt
Preheat over 400 degrees. Draw an 8 inch circle on one side of parchment paper cut to fit pan. Put the drawing side next to the pan. In medium saucepan combine water, butter and salt. Bring to boil until butter is melted. Remove from heat and blend in brown rice flour. Return to heat until dough forms a ball. Remove from heat. Beat in eggs, one at a time. Drop by spoonfuls in an 8 inch circle on to parchment lined cookie sheet. Bake at 400 degrees for 45 to 50 minutes or until golden brown. Cool on racks.
FILLING:
2 (3 oz.) pkgs. instant French vanilla pudding
2 1/4 c. milk
1 tsp. vanilla
1 (12 oz.) container Cool Whip
Combine pudding, milk and vanilla. Stir until slightly thickened, about 1 minute. Fold in Cool Whip. Carefully lift pastry from pan and slice into 2 layers with a serrated knife. Return bottom layer to pan. Plop the filling evenly over bottom layer and replace top layer. Overfilling is allowed.
FROSTING:
2 (1 oz.) pkgs. unsweetened chocolate
3 tbsp. butter
3 tbsp. milk
1 tsp. vanilla
1 c. powdered sugar
In a small pan heat chocolate and butter until melted. Add milk, vanilla and powdered sugar. Stir until blended. Drizzle over top and refrigerate.
Note: You may have leftover filling. I just offer it to anyone who is around.