March 30, 2017
Cambridge WI Dining Culture
Posted by: Duke
Cambridge, WI is a small town with a vibrant dining culture. The Oscar H. Hanson House is a 10-minute drive from 3 amazing chefs:
Cambridge Winery features the culinary talent of Executive Chef Noah Przybyski. His menu offers tapas that pair perfectly with the wines. You can expect the Chef's dishes to be infused with garden herbs and uncommon flavors that ignite one's senses. Chef Noah offers his Chef's Table-a multicourse culinary adventure-exclusively to Oscar H. Hanson House guests.
The Cambridge Winery is open Wednesdays through Sundays. They offer guests of the Hanson House 10% off food and one complimentary ½ wine tasting when the offer coupon is presented.
Executive Chefs Jason and Beth Dunn call Lewis Station Winery in Lake Miles home. Their bistro menu is full of flavor from area sausage makers and local organic farmers. Handcrafted pizzas have a crisp, flakey crust and when ordered with one or two more menu options, are meant to be shared.
Lewis Station Winery is also open Wednesday through Sunday. The Bistro is open Wednesday through Saturday. With the discount flyer, Lewis Station Winery offers guests a charcuterie of cheese, fruits and nuts. The charcuterie is only available when the Bistro is open. Their wine tastings are free for 3 wines.
Mangiami Italiano in Fort Atkinson is the home of Executive Chef Eric Weber and his tiny galley kitchen. Fresh pasta is made early and Chef Eric uses the vegetables from his garden to make a flavor packed vegetable zuppa.
Mangiami Italiano offers a complimentary glass of house wine, coffee or soda with dinner. Just show them the Hanson House business card you received at check-in. The restaurant is open Wednesday through Saturday for supper.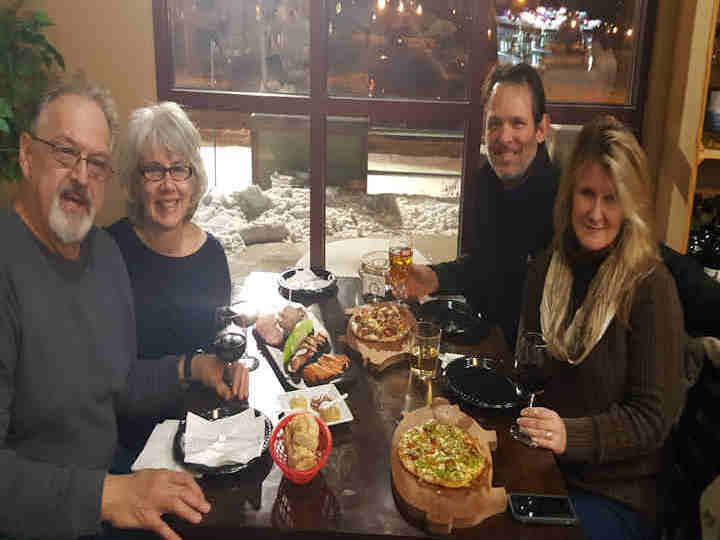 If dinner theater or a Friday fish fry are more your style, you might like the Fireside Dinner Theater in Fort Atkinson. Just Jones'ing for something simple, stop at Ken's Keystone Grill and Pub or the Sports Page. Whatever your taste, Cambridge, WI has something for you.