May 6, 2015
A Small Wedding in a Small Town- Beautiful
Posted by: Duke
This past weekend the Oscar H. Hanson House in Cambridge, WI hosted a beautiful small wedding. The day was slightly overcast. The temperature was in the upper 50s. The yard was full of the color and fragrance of daffodils.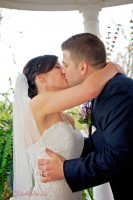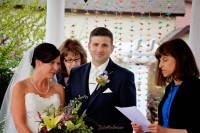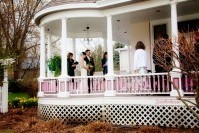 The 15-person bridal party gathered under the cupola on front porch. Julie of Julie Anderson Photography took timeless wedding portraits of the bride and groom and the family and friends who joined them. The bride wore a lace dress of cream and carried a bouquet of spring flowers created by Dutch Designs in Lake Mills. The couple served heavy appetizers from Hyvee in Madison for guests to enjoy throughout the afternoon before dinner at Chef Eric Webber's Mangiami Italiano Restaurant in Fort Atkinson.
What does a wedding in a small town cost? Less than $5,000. According to the bride, who stated that most of the expense was for dresses, tux and dinner for 30. "The venue, ceremony, and room at the B&B were a very small part of the total cost." The bride felt her experience was stress free. "I had absolutely no stress. All the vendors were artists in their own right and wonderful to work with."
So if you are looking for an elopement with 4 people or a small wedding with 15 no need to search for a wedding chapel, a church that does non-member weddings, justice of the peace, or Vegas.
The Oscar H. Hanson House Bed & Breakfast has everything you need for your wedding in beautiful surroundings and at price you can afford.